Travelling to Czech Republic for Fertility Treatment
Your Travel Options – IVF Treatment in the Czech Republic
Accessing treatment at an IVF clinic is a course of action which should only be taken after much consideration. The very nature of the treatment makes it stressful, and it demands a lot in terms of time, money and emotional input. Bearing that in mind, it's vital to find out as much as possible about the clinics you're thinking of accessing. The information we provide will help you to choose the fertility clinic which perfectly suits your needs.
Increasing numbers of people are opting to travel to another country to undergo IVF treatment. If you make this choice, it's extremely useful to gather information about your chosen location. Details such as how to get there and what to expect when you arrive will help you to plan and budget for your trip more carefully. With the right forward planning, you'll be able to reduce the stress of travelling and even enjoy some of the local amenities once you've arrived. Although travelling to the Czech Republic for IVF treatment isn't a holiday, anything which allows you to relax and concentrate on the treatment itself is likely to increase the chances of success.
That's why we've provided some useful information on the following: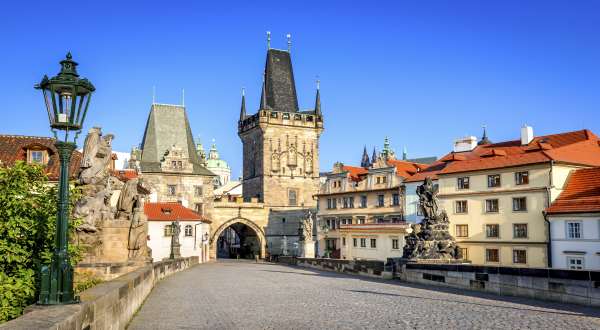 Travelling around the Czech Republic
There are 5 international airports in the Czech Republic, although the vast majority of visitors opt to fly into Vaclav Havel Airport in the capital city of Prague.  Vaclav Havel Airport handles as many as 12 million passengers per year, flying them to and from 140 cities in 46 different countries. With more than 60 airlines using the airport it should be easy to find a flight which fits into your plans. Those keen on keeping expenses down should note that budget airlines such as EasyJet, Jet2 and Ryanair make extensive use of Vaclav Havel Airport. Smaller airports in the Czech Republic include Karlovy Vary Airport, Mosnov Airport and Turany Airport. A comprehensive road and rail network, as well as regular domestic flights, makes travelling on from your airport of choice a relatively simple task.
The Czech Republic  by Road
The Czech Republic is criss-crossed by a network of roads and motorways, with the latter currently being upgraded. In common with many European countries, the Czech Republic charges a toll for motorway driving. To pay the toll, drivers need to purchase a sticker, which is displayed on the right hand side of the windscreen. The current price for the sticker, known as a 'vignette', is €12.50 for 10 days or €17.50 for a month. Failure to purchase and display the sticker when driving on the motorway can result in an on the spot fine. Motorways in the Czech Republic are designated by the letter D followed by a number, such as the D1, the countries longest motorway.
Drivers from outside the EU must have international vehicle insurance in the form of a Green card, whilst all vehicle insurance within the EU includes EU-wide third party cover. When using a hire car insurance should be covered within the rental, although the specific details should always be discussed with the individual vendor. Other laws governing driving in the Czech Republic include the following:
All cars must carry a first aid kit, a set of replacement bulbs, a set of replacement fuses, a hazard warning triangle to use in the case of a breakdown and a high visibility reflective jacket for the driver and each passenger
Right hand drive cars require headlamp converters for driving at night throughout Europe
Front and rear seatbelts must be worn at all times
If you're driving your own vehicle, proof of ownership must be carried
The Czech Republic by Rail
Train travel is a popular means of getting around within the Czech Republic. All Czech cities and towns have a train station, as well as many smaller villages. Three separate companies operate trains in the Czech Republic; Czech Railways (České dráhy), RegioJet, and Leo Express, with the first covering the whole country and the latter handling specific routes. Tickets for Czech Railway services can be purchased on the day of travelling, and a seat reservation is recommended at busier times. Tickets for RegioJet and Leo express can be booked in advance through their respective websites.  They categories of train travel available within the Czech Republic are as follows, running from slowest through to fastest:
Osobní – a local train which services every stop on the line
Spěšný – a local train which generally won't stop at the smaller villages on the line
Rychlík – a regional train serving major towns separated by longer distances
Expres – faster version of the Rychlik
Intercity or Eurocity – a modern long-distance train which only stops in major cities
Supercity  –  the fastest and most up to date trains, linking the major Czech cities. Travel on Supercity trains requires a reservation.
At A Glance
Health
There are no major health risks for people travelling to the Czech Republic, and the standards of healthcare facilities is high, a fact which is helping to make the country a hub for medical tourism. Although visitors are not required to carry vaccination certificates, it is recommended that those visitors who have not previously been vaccinated for hepatitis A and B should be vaccinated before travelling. If you intend spending an extended period in some of the more forested areas of the country, you should seek advice about immunisation against tick borne encephalitis.
The Czech Republic has reciprocal health agreements with most EU countries, and EU travellers should carry a European Health Insurance Card (EHIC), which guarantees access to basic health care. The EHIC does not cover repatriation costs or the non-urgent treatment of ongoing conditions, however, and this is just one reason why visitors should always take out comprehensive travel insurance. The unique circumstances of travelling for fertility treatment mean that it is vital to ensure that your insurance covers every eventuality, and, if you're in doubt, you should seek expert advice.
Fertility Treatment Considerations
It is also recommended that any medication you need to take with you should be carried in its original packaging and be accompanied by a signed and dated letter from a doctor detailing what it is and why it is needed. Your IVF clinic in the Czech Republic will know exactly what is and isn't required and will be able to offer any help you need.
Many Czech fertility clinics don't recommend flying home on the same day as the embryo transfer. It can be too stressful to have to catch a flight and deal with security etc on top of everything else.
Clinics have reported no issues with airline security when taking medications or needles on flights as long as there is a legitimate signed prescription available. Sometimes, clinics will also provide a phone number in case of any issues. Things can change in light of ongoing airport security so it is worth checking with your airline before you travel.
Food and drink in the Czech Republic is generally risk-free and the tap water is safe to drink. In the event of a medical emergency, you should dial 112.
Passport/Visa
The borderless region known as the Schengen area includes the following countries: Austria, Belgium, Czech Republic, Denmark, Estonia, Finland, France, Germany, Greece, Hungary, Iceland, Italy, Latvia, Lithuania, Luxembourg, Malta, The Netherlands, Norway, Poland, Portugal, Slovakia, Slovenia, Spain and Sweden. All these countries issue a standard Schengen visa that has a multiple entry option which allows the holder to travel freely within the borders of all.
Non-EU nationals must hold a return or onward ticket, all necessary documents for onward travel and sufficient funds. For travel to the Czech Republic Spain, sufficient funds are defined as the equivalent of £30 per day in the form of cash, credit cards, travellers cheques etc.
Visitors from outside the Schengen area must also fill in and sign a border-crossing card, and be able to show proof of the following at the request of the Authority of Aliens Police Service:
Sufficient means of support for the duration of their stay
Documents confirming financial security (credit cards, bank statements, etc.)
Documents confirming accommodation for the period of stay in the Czech Republic, unless another accommodation arrangement is provided
Valid health insurance, with complete coverage
It is highly recommended that your passport has at least six months validity remaining after your intended date of departure from your travel destination. Immigration officials often apply different and much stricter rules to those stated by travel agents and official sources.
Entry Requirements
UK
Passports endorsed 'British Citizen' must be valid on arrival; British passports with other endorsements must be valid at least three months beyond the period which you intend to stay.  Exemptions apply to holders of identity cards issued by Gibraltar, and endorsed 'Validated for EU travel purposes under the authority of the United Kingdom', as well as to holders of emergency passports issued to nationals of the United Kingdom. A visa is not required for passports endorsed British Citizen. No visa is required for stays of up to 90 days for holders of passports endorsed British National (overseas), British Overseas Territories Citizen (containing a Certificate of Entitlement to the Right of Abode issued by the United Kingdom), and British Subject (containing a Certificate of Entitlement to the Right of Abode issued by the United Kingdom).
USA
United States citizens require a passport valid for at least three months beyond the period during which they intend to stay. No visa is required for stays of up to 90 days.
Canada
Canadian citizens require a passport valid for at least three months beyond the period during which they intend to stay. No visa is required for stays of up to 90 days.
Australia
Australian citizens require a passport valid for at least three months beyond the period during which they intend to stay. No visa is required for stays of up to 90 days.
South Africa
South African citizens require a passport valid for at least three months beyond the period during which they intend to stay. A visa is required.
Eire
Irish nationals require a valid passport, but a visa is not necessary.
New Zealand
New Zealand citizens require a passport valid for at least three months beyond the period during which they intend to stay. No visa is required for stays of up to 90 days.
Safety
The majority of visitors to the Czech Republic enjoy a completely trouble free stay, and violent crime is rare. The crime which it is most important to be on the lookout for is petty street crime such as theft and pickpocketing. For this reason it is advised that you don't carry large amounts of cash on or about your person, and that any you do carry is safer in a money belt or wrist pouch. Incidents of this kind generally take place in busy tourist spots or crowded places such as public transport stations or on the transport itself. You should be aware that pickpockets can come in all shapes and sizes, and that some dress as tourists or use accomplices to distract attention while they commit their crimes. It is also advisable to keep a careful watch on bags hanging over the back of chairs in restaurants, or to keep bags in a safer place.  The normal precautions you would expect to take in a modern city should prove sufficient to ensure that you enjoy a crime free stay in the Czech Republic.
Overseas Embassies
UK – British Embassy, Prague: +420 257 402 111.
USA – United States Embassy, Prague: +420 257 022 000.
Canada – Canadian Embassy, Prague: +420 272 101 800.
Australia – Australian Consulate, Prague: +420 221 729 260.
South Africa – South African Embassy, Prague: +420 267 311 114.
Eire – Irish Embassy, Prague: +420 257 011 280.
New Zealand – New Zealand Embassy, Berlin, Germany (also responsible for Czech Republic): +49 (0)30 206 210.