Ferticentro was established in 2002 and is a private clinic. For the past years, the clinic has been based in Hospital da Luz, the largest and most important private hospital in the Centre of Portugal. In 2021, due to the expansion of the clinic, a new clinic was opened in the Coimbra city centre. Ferticentro features 2 operating theatres, 5 medical offices, a nursing office, 4 custom service rooms, 4 general offices, 4 patients' bedrooms and a large laboratory. In 2020, they performed 1,300 IVF treatment cycles, 70% with donor eggs and 30% with own eggs.
Medical Team at Ferticentro
Ferticentro has a highly qualified team of nearly 50 professionals, some of whom have been working in Medically Assisted Procreation since it started being practiced in Portugal. The Medical Director is Prof Isabel Torgal, the former president of the Portuguese Society for Reproductive Medicine, former Dean of Gynaecology at the Faculty of Medicine, and former Director of the Gynaecology Service of the Coimbra University Hospital. There are five fertility doctors at the clinic and seven embryologists, some even with 17 years of experience.
The Patient Care team is very much international patient-oriented and speaks 6 languages: Portuguese, English, French, German, Dutch, and Spanish. The grand majority of the staff speak fluent English. They have protocols with several international doctors and associations to assure you a more approachable and comfortable experience. Patients can also benefit from psychological support at any time during their treatment. The psychological appointments with the clinic's psychologist, Joana Caldas, cost EUR 50 (for the first one) and EUR 45 (for the following appointments).
In 2009, Ferticentro was one of the first Portuguese ART clinics to receive the Quality Certification by NP EN ISO 9001 which has been renewed every year since then. This distinction surely certifies the quality of the services.
The main benefits for patients include:
Technology – the clinic utilizes EmbryoScope®, a state-of-the-art incubator with Time-lapse video technology that allows to closely monitor the embryos during their development. Immediately after fertilization, the embryos are placed inside the EmbryoScope®, in a controlled environment, without external manipulation. They are constantly being monitored 24h/day (9 sets of images, taken every 15 minutes by an integrated camera inside the incubator). This increases the chances of embryo survival and the accuracy of embryo quality assessment.
Psychological support at any time during their treatment.
No waiting list – this is a very important topic, because time plays a crucial role in fertility, and we know the majority of patients have an exhausting infertility journey behind them. Ferticentro Patient Care department, as well as the doctors and nurses, are ready to plan your treatment on very short notice.
Medication, tests, and visits – many exams and medication intake can be done in your home country, in order to minimize the length of your stay abroad.
Ferticentro Treatment Options
IUI (intrauterine insemination) and AID (artificial insemination with donor)
IVF/ICSI
Egg donation
Embryo donation
Donor sperm
PGT
Embryo/egg/sperm freezing
EmbryScope
Assisted hatching
Embryoglue
ROPA, MACS, PICSI.
In Portugal, embryo vitrification, storage and payment are done for periods of min. 3 years and it is renewable every 3 years (the cost for 3 years of storage and maintenance is €500).
Need more information about IVF treatments? Contact Ferticentro
Cost of Treatments at Ferticentro
At Ferticentro, IUI (intrauterine insemination) with your partner's sperm will cost you EUR 900 and if you undergo AID (artificial insemination with donor sperm), this costs EUR 1,350.
IVF with Own Eggs Costs
When it comes to treatment with own eggs, the program costs EUR 4,950 and it includes all the required procedures like ICSI, sedation, and embryo transfer. The price for embryo storage and maintenance is EUR 500 per 3 years. If you require a sperm donor for your treatment, the cost is €550 for a non-anonymous donor.
Egg Donation Costs
The Standard Egg Donation program costs EUR 7,500 and it covers most of the needed procedures such as:
egg donor medication
ICSI
extended culture to blastocyst
EmbryoScope
embryo transfer
embryo vitrification cost (the storage fee for 3 years is EUR 500).
The price does not include the donor egg recipient's blood tests and medication. The first consultation costs EUR 110. The cost of sperm freezing is EUR 500 for a 5-year period.
Non-Anonymous Egg Donors
If you're searching for a non-anonymous egg donor, Portugal is the place to go. At Ferticentro, you can use the eggs coming from an egg donor who will not remain anonymous. This means that your child born from the treatment with a non-anonymous egg donor's eggs can have access to the donor's identity as soon as they turn 18 years old. The egg donors are fully aware of the law and are emotionally prepared to cope with the possibility of being contacted in the future.
The Ferticentro's Oocyte Donation Program is particularly demanding and most of the egg donor candidates are rejected. This is to ensure that the process is safe for both the receiving couple or woman and the donor herself. At Ferticentro, egg donation is done in an ethical way. The privacy and rights of the donors are always respected and the treatment is carried out in the safest way possible. Egg donor candidates are evaluated at Ferticentro by a multidisciplinary team that tests their general, gynecological, and psychological health looks for infectious diseases and runs genetic tests.
In Portugal, the decision to match donors with patients is a clinical decision made by the medical team. However, at Ferticentro they try to provide some information to help patients get comfortable with their donation treatment. Therefore, Ferticentro has created basic donor profiles with clinical information and physical features, and extended donor profiles with information about personality, lifestyle, family, etc.
Not all donors have an extended profile, because not all of them wish to disclose their personal information, however, the majority of them have it.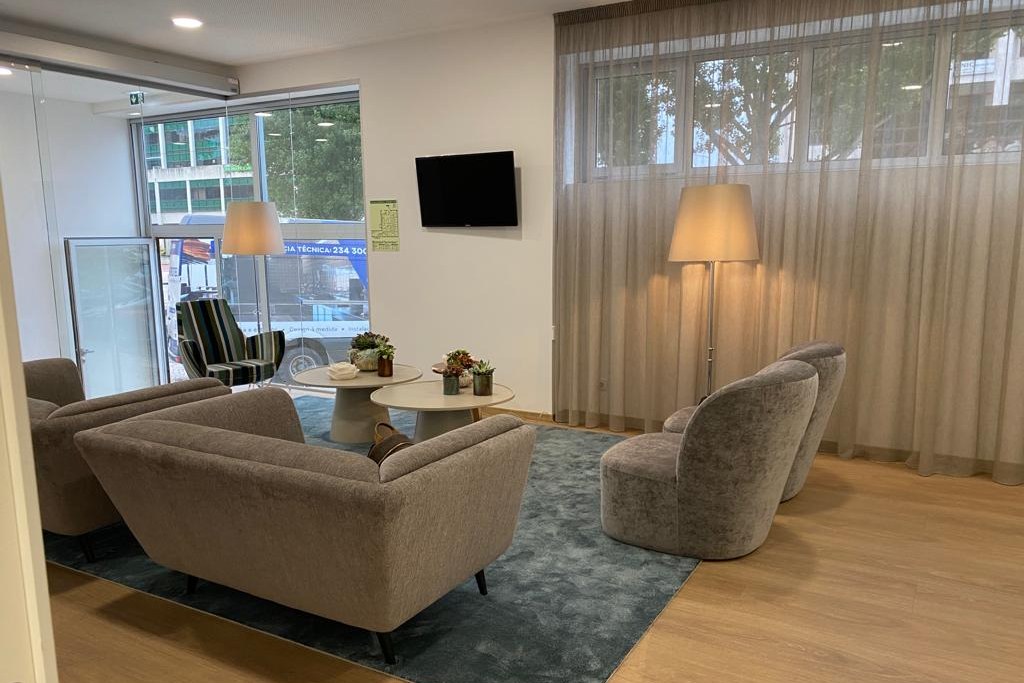 Frozen embryo transfer from the remaining vitrified embryos costs EUR 1,350.
If you're interested in preserving your fertility, Ferticentro offers egg freezing/social freezing programs for EUR 2,800. Same-sex female couples can undergo ROPA (Reciprocal IVF) at the cost of EUR 4,950.
All costs will be clearly explained to you beforehand, and treatment information, as well as administrative support, are non-binding. If you're abroad, you'll receive detailed pricing quotations so you can examine them carefully before traveling to Portugal.
Our IVF Cost Calculator can help with understanding costs.
Want to ask a question about IVF costs? Contact Ferticentro
Ferticentro Success Rates 2020
The egg donation clinical pregnancy success rates were 65% in 2020 and for IVF with own eggs – 46%. The clinical pregnancy success rates with own eggs as per woman's age were as follows
women under 35: 52%
women 35-40: 33%
women above 40: 12%.
The embryo donation clinical pregnancy rates were 55% in 2020.
Ferticentro specialists recommend and practice embryo transfer at the blastocyst stage. The average number of embryos transferred in 2020 was 1.1% as embryologists at Ferticentro do not recommend transferring more than a single embryo. Thus the multiple birth rate was under 10% last year.
Need more information about IVF success rates? Contact Ferticentro
Who Attends?
Ferticentro is attended by patients from various countries. 50% of patients are French, 30% are Portuguese, 10% are Dutch. German, Swiss, Spanish, English, and Irish patients account for the remaining 10%.
From the staff
Founded in 2002, Ferticentro is the most international IVF Clinic in Portugal. Its Patient Care department works in 6 different languages and the clinic's very modern and sophisticated lab has been consistently providing brilliant results over the years. Portugal has become Europe's top destination for non-anonymous egg and sperm donation and Ferticentro is clearly leading the amazing development of IVF activity in the country. Ferticentro founded the first egg and sperm bank in Portugal and with its brand new modern and exclusive facilities it is now the best place to do IVF in an ethical, specialised way.
Clinic Location
Ferticentro is located in the city of Coimbra, at Rua Padre Estevão Cabral, No. 72, 3000-316. This is one of the most beautiful and historic cities in the country. The University of Coimbra was the first university in the country and it is the eighth oldest university in Europe. It has a very strong tradition of medical studies, and some of the most important private and public hospitals of the country, as well as research infrastructures, are located here.
There are two airports, in Porto (1 hour and 15 minutes away) and Lisbon (1 hour and 45 minutes away). There are also several trains, metro and buses, Uber, etc. connecting the airports and Coimbra. The clinic has special offers for airport pick-up from Porto and Lisbon airports. Ferticentro has deals with local hotels. The clinics' facilities are located in the heart of the city, so you can easily stay at a hotel close by and take a bus or train within a 5-minute distance. Contact the clinic's coordinator to find out more.