International Patient Care Department at PreGen UR Vistahermosa | Interview
Travelling abroad to receive fertility treatment is becoming more popular than ever. Fertility issues know no borders – the problem touches women and men all over the world. International patients are then prepared to travel abroad in search of professional, successful IVF or egg donation treatment and impeccable patient care.
PreGen UR Vistahermosa, a fertility clinic in Alicante, Spain, has an International Department that assists patients from abroad with advice on IVF costs, regulations, accommodation, and travel. They can also consult with your gynecologist in your country before you come to Alicante for treatment.
We have contacted their International Department and asked them questions that are crucial to understanding what fertility treatment looks like at PreGen UR Vistahermosa and what you can expect once you go to Spain for IVF. Read the interview to discover what your IVF journey would look like at this clinic.
Can you tell us why patients from abroad should consider Spain as their destination for fertility treatment abroad?
Spain is one of the countries in Europe where more assisted reproduction treatments are performed. Because of many reasons; one of the reasons for the Spanish leadership is that the legislation allows egg donation. Couples from different countries such as France, Italy, Germany, or the United Kingdom travel to Spain where egg donation is legal and regulated by law. For example, in Germany IVF with donor eggs is not allowed and in the United Kingdom and other countries, donations are not anonymous, which makes it more difficult to find a donor. All over the years, this legislation has increased the quality of the medical services offered in Spain as well as advances in this type of treatment. In addition, it must be taken into account that the prices of IVF treatments in Spain are lower than in other northern European countries.
UR International Group was established in 1983. What is your medical director, doctors and embryologists' experience in the fertility field?
We have a highly prepared medical, nursing and laboratory team with many years of experience. Where it is worth mentioning the director and founder in 1983 of our clinics, Dr. López Gálvez. In addition to having more than 40 years of experience in gynecology and more than 35 years in fertility treatments, he is involved in different scientific societies and has written numerous publications. As laboratory coordinator, we have Dr. Moreno García, who also has more than 35 years of experience as an embryologist and laboratory manager.
Does your clinic specialize in a certain area, e.g. male factor or multiple IVF failures? Do you get many patients with these issues?
In our centre, we treat all kinds of infertility problems, whether they affect women or men. We are also specialized in all the techniques legally accepted in our country such as intrauterine insemination, IVF, ICSI, PGT-A, and gamete donation. We can also highlight that in our centre we have an egg/sperm bank. We also have a Genetic Unit within the clinic.
We know from our experience that one of the reasons many couples avoid going abroad for IVF is the language barrier. Does your staff speak English and/or other languages?
It's a fact that most of our patients are foreigners who come from various parts of the world. We have an international team, who are native speakers and/or translators of languages such as Italian, German, English, and French. The international department is able to assist with all the translations, help with flights, transfers, and accommodation, and clear patients' doubts regarding the treatment process. Also, most of our team speaks English.
Is your clinic obliged to report the results and success rates to a national "IVF monitoring organisation"? Where and how can a patient check if your clinic is fully accredited and regulated before deciding on treatment at UR International Group?
Yes, we are obliged, similarly to all fertility clinics, to register our data and statistics annually with SEF (the Spanish Fertility Society). The patients can see all the data on their official website.
What is the maximum patient age for IVF treatment at your clinic? (own eggs and donor eggs)
If the patient is going to have a cycle with her own oocytes, it always depends on her ovarian reserve, rather than on her age. It is always better to personalize each case. The same would happen if a cycle is performed with donor oocytes. It will depend on the case and the health of the patient. It is always recommended that the pregnancy takes place at the reproductive age. And this ends in menopause, around the age of 50. It always depends on the case.
Can you please tell us about the donor egg recipient qualification process and which patients cannot be accepted for egg donation treatment? Are there any limitations apart from the patient's age?
It's very rare that a recipient cannot be accepted for the egg donation. One reason could be that the patient presents a high risk of suffering an important health problem. Also, a reason why the donor eggs cycle is canceled is if the recipient's endometrium does not respond to medication. As a consequence, the endometrium does not thicken. As a result, the doctor wouldn't recommend carrying out an embryo transfer and the embryo would not be able to implant and survive.
What egg donors do you have (race/ethnicity)?
By having an oocyte bank and a high percentage of donors, we have a wide variety of donors with different ethnicities. But it should be noted that the most common are the Mediterranean, Nordic, Latin, and African ethnic groups.
What is your protocol for patients with multiple IVF failures? Do they receive different treatment?
Whenever there is a bad result in a reproduction cycle, an attempt is made to study the reason why it did not work. The gynecologist and the team can make several changes in medication, amplify patient studies, insert different techniques, etc. to achieve a different result.
Do you consider egg donation the best alternative for patients aged 38-40? There are many patients of this age who are looking for treatment with their own oocytes.
I consider that oocyte donation is necessary when the woman has a low ovarian reserve or when she has had poor oocyte quality in previous cycles. It has been shown that from the age of 38 this situation usually worsens and that is why there are many patients who resort to egg donation from that age. But it is not strictly seen in all patients. We encourage all female patients to get in touch with us and go through testing their ovarian reserve.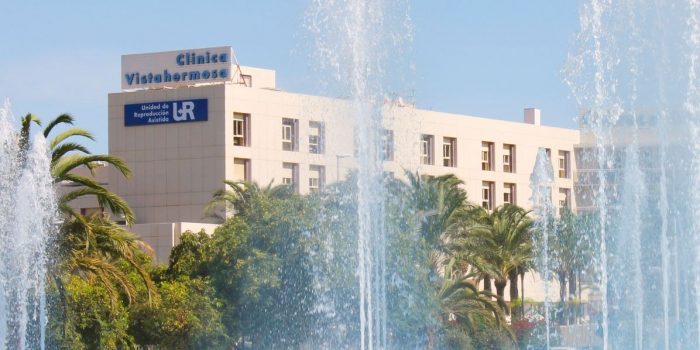 Can you tell us, in short, about the most difficult IVF case you have had that ended in successful birth? What made a difference in that case?
There is no specific case that we can pinpoint. We have many patients coming to us after being diagnosed with implantation failure or recurrent miscarriages, which are always difficult cases. We always assess each case individually, and tailor protocols and instructions to each patient, so that we can do everything in our power to help them have a healthy baby at home at the end of the process.
During the treatment process who is in touch with the patient? Can patients communicate with the doctor? Are they assigned an individual patient coordinator?
During the process, the entire team is in contact with the patient. From the administration department to the medical, nursing, and laboratory team. They will always be accompanied by a translator from the international department.
What new/innovative IVF techniques are available at your clinic? Are there any innovative treatment solutions that you have implemented recently?
In our clinic, we offer all kinds of techniques. For example, Time-Lapse, MACS, PGT-A, use of EmbryoGlue for embryo transfers, and gamete donation with the use of Fenomatch. One of the newest techniques that are beginning to be tested is the non-invasive aneuploidy test. In this way, a genetic study of the embryo's chromosomes can be carried out without the need to carry out a biopsy on it (which can sometimes be an aggressive procedure for the embryos).
We hope this interview has brought you a better understanding of what the fertility treatment process looks like at PreGen UR Vistahermosa in Alicante, Spain. As every patient's case is different, we encourage you to ask the clinic more questions using the Contact Form here. Also, you can get your chances of IVF success reviewed by experts from PreGen-UR Vistahermosa for free, by filling out a simple form – review your IVF chances here.