Interview with dr. Eraslan from Dunya IVF Clinic in North Cyprus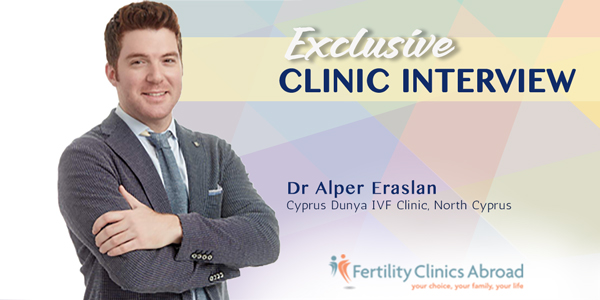 We have had the pleasure to interview Dr. Alper Eraslan from Dunya IVF Clinic in Kyrenia, North Cyprus. Dr. Eraslan is an Obstetrics & Gynaecology Surgeon with IVF Specialist certification. He joined Dunya IVF in 2019. Previously he was part of the Koc University Hospital in Istanbul Turkey. He received his IVF Specialist certification from the American Hospital in Istanbul. He attended the Faculty of Medicine in Dokuz Eylul University School of Medicine in Izmir and completed Ob&Gyn Residency in Marmara University Hospital in Istanbul.
Dr. Eraslan was granted a fellowship from ESGO at Klinikum Frankfurt Höhcst, Germany with Prof Volker Mobüs in 2013 and at UZ Leuven, Belgium with Prof Ignace Vergote in 2014. He has a good command of English.
Can you tell us why patients should consider North Cyprus as their destination for fertility treatment abroad?
There are several reasons why North Cyprus has become popular with patients going abroad for treatment. One of the main reasons is the liberal regulations concerning assisted reproduction. Also, the success rates are similar to Western Europe with significantly lower costs. Therefore, patients receive excellent care at a reasonable price. We are also an island with nice weather year-round. Our patients get a chance to have a lovely holiday as part of their treatment.
We know from experience that one of the reasons many couples avoid going abroad for IVF is a language barrier. What patients from abroad can expect at Dunya IVF?
This is not an issue at our clinic as we have native speakers of 9 different languages as part of our team. We truly have an international team at Dunya IVF and true to our name (Dunya means the World) we welcome patients from various countries. The languages we speak are English, German, French, Italian, Russian, Arabic, Romanian, Bulgarian and Turkish.
IVF clinics in North Cyprus are not obliged to report their results and success rates to any international monitoring organisations, e.g. ESHRE. How can a patient check if a clinic is fully accredited and regulated by a governing body before deciding on treatment?
We are currently one of the 5 fully licensed IVF clinics in North Cyprus. Patients can verify us with the Ministry of Health which IVF clinics are licensed according to the latest regulations. All our reporting is done to the Ministry of Health and they are the body that audits our clinic.
Can you please let us know what type of treatments are available according to regulations in North Cyprus and who can be treated?
In addition to the traditional IVF treatment with own semen and oocytes, we can also offer egg donation, sperm donation and embryo donation treatments. We can add PGT-A testing to any of the treatments to check for chromosomal anomalies on the embryos if needed. We can also perform an embryo transfer to a surrogate for couples who have medical reasons for treatment. We can help couples who are not married, single women and women of advanced age (up to 55).
Which type of IVF treatment of which specific technique or method has made a real difference to success rates in Cyprus and why?
I can comment about our clinic, where we follow the latest developments in the field and update our facilities according to the latest technologies and techniques in the field. We only use scientifically proven methods and use tailor-made protocols for our patients to give them the best possible outcome. We use Embryoscope Plus and RI witness systems as standard in our treatments and proud to be the only clinic in Cyprus offering both of these technologies.
You treat female patients up to the age of 55. For patients over 45 Ministry of Health approval is required. How can it be done if you are a patient from abroad?
The over-45-year-old patients need to do a few extra tests to make sure they will not have an adverse effect when they become pregnant. For example, we need an assessment from a cardiologist and an endocrinologist and a few more extra tests than normally required. These tests can either be done in the city the patient lives in or they can also be done here in North Cyprus.
Who are your egg donors and how do you screen them?
Our donors are from all over the world. We screen our donors' hemogram, blood groups, karyotype which screens the number of chromosomes and whether any major abnormalities exist or not. We also screen the sexually transmitted diseases (such as Hepatitis B, Hepatitis C, HIV, Rubella, VDRL) and thalassemia routinely. These are all by the reason of the laws and legislation by the Ministry of Health in North Cyprus. We also screen sickle cell, anaemia, CMV and evaluate the psychological state of our donors. We can also screen any additional test if required by the patient or necessary for the particular patient.
 How do you treat patients with multiple IVF failures? Do they receive different treatment?
At first, we try to detect whether there is any problem undetected up to date, such as a problem in the ovaries, tubes or uterus. We also can change the protocol and dosages depending on the previous treatment attempts. Depending on the individual/couple, we can also recommend performing genetic testing to make sure the transferred embryo(s) contain(s) the normal number of chromosomes in order to increase the chance and to be able to eliminate the risks associated with the ovarian age.
Why are overseas IVF clinics such as yours able to offer low-cost IVF and egg donation? In the UK the prices are usually much higher. Does a higher price mean better treatment?
Generally, the cost of living, property prices and everything in Cyprus is cheaper than in the UK which translates into cheaper treatment for patients. A higher price does not necessarily mean better treatment. The patients should study and compare the clinics thoroughly before deciding on the clinic. On the whole, our Western European patients are pleasantly surprised with the personalised patient care they receive from us.
Kyrenia is very beautiful – when is the best time to visit if patients want to have a holiday together with their treatment?
Kyrenia is beautiful year-round. Because of the Mediterranean climate, in Cyprus, the weather is sunny during the whole summer, with a mild climate in spring and fall, and occasionally rainy in winter with a mild climate. The warm people, Mediterranean culture & cuisine make it a special place to visit. However, my favourite time in Cyprus is spring as the summer can sometimes be a little too hot.
If you wish to get in touch with the clinic directly, use the contact form in the Dunya IVF Clinic profile or get in touch with our International Patient Coordinators who can help you arrange a free online consultation with Dunya IVF Clinic.