Clínica Tambre is a pioneering medical-surgical centre specialised in gynaecology and fertility located in the heart of Madrid. It was founded in 1978 and is a private clinic. In 2017 it carried out about 1000 treatment cycles. Its mission is to help patients fulfil their dream of giving birth to a healthy baby, and contribute to the development of science, medicine and society. Clínica Tambre is also known by the overarching name Mistral Fertility Clinics, SL.
The former president, Dr. Pedro Caballero, started his career in assisted reproduction over 40 years ago, which makes Clínica Tambre Madrid's most-experienced medical centre in the field of fertility. With more than 56 published scientific studies, Caballero is considered a strong reference among the scientific community. Furthermore, Dr. Pedro Caballero used his experience in andrology to create the second Spanish semen bank in 1980. His entire team shares his ambition, commitment and dedication, this allows Clínica Tambre to position itself as a top-level clinic within and outside of Spain. However, the key to Caballero's success is not only due to his 40 years of experience and entrepreneurial spirit. Clínica Tambre also stands out in offering patients warm and personalised care, success rates well above the Spanish and European average, an excellent medical team and the deployment of the most accurate and recent technology.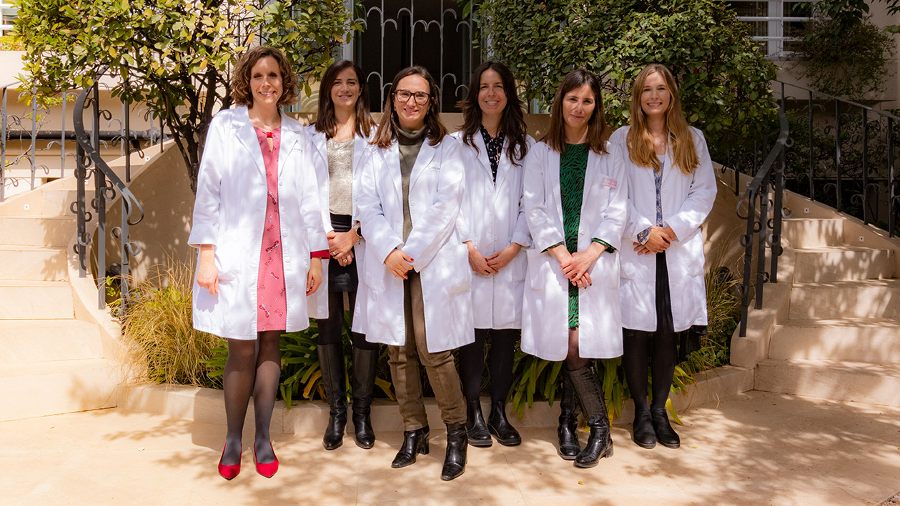 Clínica Tambre was completely renovated in 2018, the year in which Inge Kormelink took charge of Tambre. There are two laboratories; one destined for IVF and the other for andrology. After treatment, patients can enjoy the comfort of private recovery rooms, of which there are 6.
Would you like to hear from the Clinica Tambre team? Contact Clinica Tambre
Medical Team at Clinica Tambre
Tambre's team has broad experience, led by medical director Dr. Laura Garcia de Miguel, who is a specialist in obstetrics and gynaecology with a master's degree in human reproduction. The entire team comprises 8 fertility specialists, 7 embryologists (the senior embryologist is ESHRE accredited) and 6 nurses. The international team consists of cross-cultural experts who facilitate communication from the first contact to the end of the treatment. The team speaks several languages, including English, Italian, German, Dutch, French and of course, Spanish.
Clínica Tambre has the largest and longest-standing sperm bank in Madrid and provides samples to other clinics all over Spain; the sperm bank is professionalised in both the male and female factor. Clínica Tambre is committed to quality controls. Tambre was the first in Spain to receive ISO accreditations; ISO 9001:2015 as well as ISO 14001 and the Health Ministry regulation UNE 179007. They are the only European clinic to have received the EFQM European Quality Management Finalists Award in 2005 & 2008. Apart from their own bio-sample tracking systems, they have also a system called Witness. It consists of an RF Card (radio frequency card) given to patients which locks the patient's identity to the sperm, eggs and embryos at every stage of the treatment.
Clinica Tambre IVF Treatment Options
The following fertility treatments and procedures are available at Clinica Tambre:
IUI (intrauterine insemination) and AID (artificial insemination with donor)
IVF/ICSI
Egg donation (own egg bank)
Sperm donation (own sperm bank)
Embryo donation
Fertility Preservation/Social Freezing
the ROPA method (Reciprocal IVF for same-sex lesbian couples)
Embryo freezing
Sperm freezing
Also, diagnostics tests are available:
CometFertility® is a diagnostic test performed to obtain a diagnosis related to the male factor. This technique analyses the DNA fragmentation that can occur in a sperm sample
Chromosperm and FISH – these tests allow embryologists from the Andrology Laboratory to evaluate the global chromosome content of the sperm cells in your partner's sample. This is a fast and effective way of detecting the overall genetic load that could affect the success of your treatment
KIR and HLA-C Genotyping – dedicated to patients with a history of implantation failure and recurrent miscarriages. It is a study of the compatibility between uterine KIR receptors (killer immunoglobulin-like receptors) and the HLA-C molecules that the embryo will present and that will be recognized by these receptors
myPrenatal® – is an advanced prenatal screening test, which analyses cell-free foetal DNA and studies the possible existence of chromosomal abnormalities. It detects three of the most frequent trisomies in the foetus: Down syndrome, Edwards syndrome and Patau syndrome, as well as two sex chromosomal alterations: Turner syndrome (45, X) and Klinefelter syndrome (47, XXY).
PGD (Preimplantation Genetic Diagnosis) is an Assisted Reproduction technique that allows us to study the genetic material of embryos before they are transferred and select the healthiest embryos to ensure that no chromosome or genetic abnormalities are present.
At Clinica Tambre, patients can benefit from the following technologies being applied:
Embryo monitoring (GERI-incubator) allows monitoring of the embryos through a time-lapse system without extracting them from the medium
Fenomatch – the latest technique to find an egg or sperm donor who has a similar phenotype to you and your partner
RI Witness™ – a security system that identifies the semen, egg, and embryo samples of each patient.
If you happen to be diagnosed with an endometrial factor, Clinica Tambre is the right clinic for you. Their specialists deal with endometrial issues and displaced window of implantation. You may want to read "Endometrial Factor and Displaced Window of Implantation | Real Patient Success Stories" where we present two couples with a history of two failed IVF cycles each and, finally diagnosed with displaced window of implantation. Find out how different approach helped them get pregnant.
Need to find out more about a particular treatment? Contact Clinica Tambre
Clinica Tambre Costs
IUI (intrauterine insemination) – 975 Euros.
First and subsequent medical consultations
Monitoring during the cycle
Andrology laboratory and sperm capacitation
Artificial insemination.
AID (artificial insemination with donor) – 1,470 Euros. Services included:
First and subsequent medical consultations
Monitoring during the cycle
Sperm bank
Artificial insemination.
Genetic matching costs 1,200 Euros.
IVF with Own Eggs
The advertised price of IVF treatment using own eggs is normally 5,100 Euros but they have a special offer of 4,250 Euros. Included in this price are sedation, ICSI, GERI and blastocyst culture, Witness system and embryo transfer. Extended culture to blastocyst normally costs 450 Euros, embryo freezing is 650 Euros for the first year including storage, sperm freezing is 120 Euros. If you are interested in the best program with own eggs, check this Top IVF Program by Clinica Tambre.
IVF with Donor Eggs
The normal advertised price of egg donation treatment is 6,500 Euros and includes donor stimulation, ICSI, sperm freezing, and the Witness system. The initial consultation is free.
They have a **special offer for a limited period only** – The egg donation price is 5,900 Euros instead of 6,500 Euros including  ICSI, sperm freezing, one blastocyst transfer guaranteed, and using the Witness system. The first consultation costs 90 Euros but it will be deducted from the final cost of the treatment.
The next package costs 7,700 Euros. This includes ICSI, sperm freezing, GERI incubator, two blastocysts for transfer guaranteed. The first consultation costs 90 Euros but it will be deducted from the final cost of the treatment.
Neither of these packages includes freezing of surplus embryos or embryo storage.
Other prices are as follows:
Artificial Insemination: €975-€1,470
IVF treatment from €3,995 to €12,715
Egg Donation treatment prices range from €5,900 to€11,900
Vitrification: €500.
ROPA Method at Clinica Tambre
Clinica Tambre welcomes lesbian and transgender couples for ROPA treatment (reciprocal IVF). There are a few packages available:
ROPA Classic Day 3 – €4,645
ROPA Day 5 Premium – €5,900
ROPA Day 5 Premium + Genetics (PGT-A + Time-lapse GERI® Incubator included) – €7,695/one embryo
ROPA Cycle Plus (2 cycles) – €10,985
ROPA Cycle Plus + Genetics (2 cycles + (PGT-A) + Time-lapse GERI® Incubator included) – €14,480.
If you are looking for embryo adoption, this is also available at Tambre, costs 2,000 Euros and includes any additional ultrasounds and/or hormonal tests needed prior to the embryo transfer.
Fertility Preservation at Clinica Tambre
Are you looking for fertility preservation? At Clinica Tambre, you have a variety of egg freezing options.
Tempo Package – 1-year storage – 1,995 Euros
Tempo Package – 5-year storage – 2,590 Euros
Tempo Plus Package (two egg retrievals under sedation) – 1-year storage – 3,495 Euros
Tempo Plus Package (two egg retrievals under sedation) – 5-year storage – 4,495 Euros.
A frozen embryo transfer, at Clinica Tambre, is 1,450 Euros. Feel free to use our IVF Cost Calculator to help you understand IVF costs more.
If you have any questions about these packages, Contact Clinica Tambre
Clinica Tambre Success Rates
Success rates are good, particularly for egg donation. The egg donation clinical pregnancy success rate of 2018 was 97.6% and IVF clinical rate was 86.9%. In 2018, the IVF with own eggs clinical pregnancy success rates were:
under 35 years old: 58.6%
35-40 years old: 56.7%
over 40 years old: 34.4% (with PGD 76.2%)
The frozen embryo clinical pregnancy rate was 56% and the embryo donation clinical pregnancy rate was 67.2%. The clinical pregnancy success rate for the ROPA method was 50.14%. Clinica Tambre submits its results to the Spanish Fertility Society (SEF) for verification. The recent success rates for 2020 will be published as soon as SEF audits them. In 2018, the multiple birth rate was 2.1%. The clinic's preferred day of transfer is day 5 of the blastocyst stage.
Need more information on IVF success rates? Contact Clinica Tambre
From the staff
We have over 40 years of experience! Our extensive career in the world of reproductive medicine has allowed us to achieve the highest success rates not only in Spain but also throughout Europe. We are pioneers in assisted reproduction and therefore have the most complete, compassionate and experienced team of fertility experts to ensure that you walk out of our clinic with a healthy baby.
Who Attends?
Of the people who attend Clinica Tambre, 50% of the patients are Spanish, 15% come from the UK, 15% are from France, 10% are from Italy and 10% are from other countries. 9 out of 10 women who were treated by the Tambre team in 2017 reached their dream of becoming pregnant.
Clinic Location
The clinic is located 11 km from the airport, 1.5 km from the nearest hotel, and 4 km from the city centre. The clinic is on a quiet high-end residential street. It is a few minutes' walk from the Metro Station and 15 minutes by taxi from the airport. They can offer free airport pickup service and they have deals with local hotels, too.