Dunya IVF clinic is located in the city of Kyrenia on the northern coast of Cyprus. It was opened in 2008 and treats private patients. The total number of treatment cycles undertaken in 2017 was 1000 and 70% of these were egg donation cycles.
Dunya IVF moved to a purpose-built brand new building furnished with the latest technology in January 2018.  It has two operating theatres, four private patient rooms, andrology, embryology and cryopreservation laboratories along with a recovery room for patients following fertility procedures.
The medical director is Dr. Berk Angün who joined Dunya IVF in 2008. He graduated from the University of Uludag and University of Anatolia Medical School. He has worked in several hospitals and clinics including the Woman & Infertility Centre in Istanbul and the Anatolia IVF Centre in Ankara. He is fully trained in quality management processes (European Foundation for Quality Management (EFQM)) and has pioneered the implementation of these principles.  He is a current member of the TSRM Reproductive Health and Infertility Association, TJOD Turkish Society of Gynaecology and JED Gynaecological Endoscopy association. There are two doctors who work in this clinic and four embryologists. The senior embryologist has 15 years experience and is ESHRE accredited. The clinic has an international team who speak Turkish, English, Russian, Romanian, Bulgarian, French, German and Arabic.
Dunya IVF has ISO accreditation ISO 9001 and ISO 15819 accreditation.
Dunya IVF Treatments
IVF/ ICSI
Egg donation
Donor sperm (sperm bank Cryo International)
Embryo donation
PGD/PGS
Assisted Hatching
Sperm/Egg freezing
Want more information about IVF at Dunya? Contact Dunya IVF
Cost of Treatments
The advertised price of donor egg treatment is 5000 Euros. Included in this price is donor stimulation, egg retrieval, ICSI, culture to blastocyst and embryo transfer. The cost of embryo freezing by vitrification is 500 Euros plus a 250 Euro yearly maintenance fee.  Sperm freezing costs 250 Euros plus a 125 Euro yearly maintenance fee. All consultations are free at Dunya IVF. There is an option to egg share and this is cheaper. Donor characteristics such as age, nationality, blood type and physical characteristics are available for patients opting for egg donation treatment.
IVF/ICSI treatment is advertised as costing 3000 Euros.  The cost of a frozen embryo transfer is 1500 Euros.
Need more information on IVF costs? Contact Dunya IVF
Use our IVF Cost Calculator to help understand what costs are involved in fertility treatment abroad.
Dunya IVF Clinic Success Rates 2017
For egg donation treatment, the clinical success rate given by the clinic is 81%. For embryo donation it was 82%. The IVF clinical pregnancy rate across all ages was 55%.
The clinic will transfer on average 2 embryos and they prefer Day 5 blastocyst transfers but they will transfer day 2-3 embryos based on special circumstances.
Need more information on IVF success rates? Contact Dunya IVF
Who Attends?
The breakdown of nationalities who attend Dunya IVF is 65% from Turkey, 20% from the EU, 5% from Russia, 5% from the Middle East and 5% from Canada, Australia and Africa.
From the staff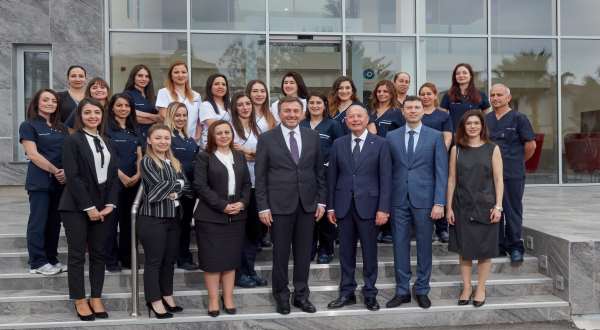 We are one of the most prestigious IVF Clinics in Cyprus. We offer the highest standards in our Embryology, Andrology and Genetics Laboratories. We proudly have one of the highest success rates in Cyprus and aspire to be the first & only IVF clinic in Cyprus with both ISO 9001 and ISO 15819 accreditation. Dunya IVF Centre was established with the support of highly experienced teams from Istanbul and Ankara. These teams have been applying in vitro fertilization for over 20 years.
Clinic Location
The clinic is located in the centre of Kyrenia. There are good transport links from Ercan and Larnaca Airports.