emBIO clinic is located in Chalandri, Greece, in proximity to the city centre. The clinic opened in 1996 and since then it has helped over 10,000 babies to be conceived. In 2021, the clinic undertook 1,058 IVF cycles of which 36% were egg donation cycles and 64% IVF with own eggs cycles. EmBIO has two world-class IVF laboratories and three operating theatres and has two ensuite patient recovery rooms.
The Medical Director is Dr. Thanos Paraschos. He is an internationally acclaimed obstetrician and gynaecologist, specialized in infertility treatments. He was privileged to be a member of the team performing the first preimplantation genetic diagnosis (PGD) in the world in 1989, alongside with Lord Professor Robert Winston and A.H. Handyside at the Hammersmith Hospital.
emBIO Medical Team
emBIO clinic employs five fertility doctors and five embryologists, including senior embryologist with 28 years of experience.  The medical team at emBIO includes specialists from various fields connected to human reproduction, IVF doctors, urologists, anaesthetists, breast specialists and even cardiologists. The gynaecologist team consists of dr. Elias Gatos, Obstetrician Gynaecologist, dr. George Theodoropoulos, Gynaecologist, IVF Fertilisation & Endoscopic Surgery Specialist, dr. Amalia Georgakaki, Gynaecologist. The Head of emBIO IVF Laboratory is Dina Katrania-Paraschou.
Patients of the clinic are treated and taken care of by one designated team – this allows to develop better communication and trust among patient and the staff. There is also an international team at the clinic to help with translation. The staff at emBIO speak fluent English.
EmBIO holds the unique distinction of being one of the first fertility centres in Greece to become certified to ISO 9001:2000 standards. The clinic currently has ISO 9001 2015 and ISO 15224 2017.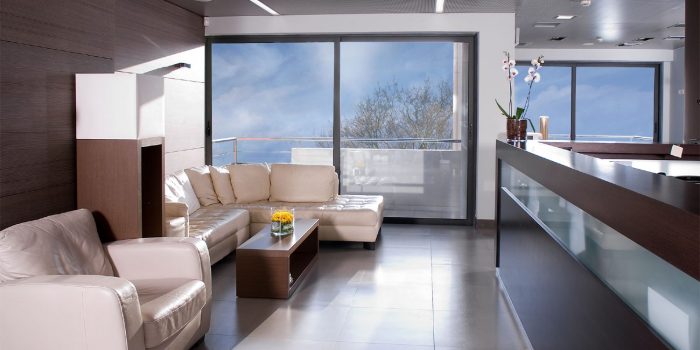 emBIO Treatment Options
The following treatments are available at the clinic:
IUI (intrauterine insemination) and AID (artificial insemination with donor)
IVF+ICSI
Natural Cycle IVF – The natural cycle IVF is a fertility treatment during which only one oocyte is retrieved from the ovary without administering any stimulation hormones prior to the treatment.
Mini-IVF – the treatment is designed to produce and collect only a few high-quality eggs and reduce the risks of hyper-stimulation, the cost of medication, the number of injections, and avoid the painful progesterone injections.
Egg donation (donor matching – Perfect Match Embio)
Donor sperm
Embryo donation
Embryo selection with time-lapse and artificial intelligence (AI)
PGT-A
Assisted Hatching
Embryo freezing
Sperm/Egg freezing
Embryoglue
TESE
MicroTESE
PRP Ovarian Rejuvenation
Uterine Rejuvenation with PRP (endometrial rejuvenation)
Apart from the above IVF treatments emBIO Medical Center also offers a wide range of complimentary therapies such as supplementary mind/body programs, acupuncture, massage, yoga, individual therapy, and nutrition counselling, all targeted to facilitate the treatment process and successful pregnancy.
Need more information about a particular treatment? Contact emBIO
IVF Costs at emBIO
If you and your partner qualify for IUI (intrauterine insemination), you can have this treatment at emBIO for EUR 300. In case donor sperm is required, the woman can undergo AID which is artificial insemination with donor sperm. At emBIO, this costs EUR 300 plus the cost of donor sperm which starts from EUR 200 (the price of donor sperm increases depending on the sperm quality).
IVF with own eggs
If you qualify for IVF treatment using your own oocytes, the cost of IVF is EUR 2,500. This program includes:
the initial consultation with a fertility doctor,
follow up of the treatment in our clinic,
anaesthesiologist during egg collection,
egg collection,
embryo transfer,
embryo culture,
ICSI if needed.
The clinic offers egg sharing which is a more affordable option for many patients.
If you wish to genetically test your embryos, you can opt for PGT-A/PGS at the cost of EUR 2,000. For women who are looking to freeze their eggs (social freezing), the cost is EUR 1,290 for the freezing procedure and there is a EUR 390 storage fee per year.
Egg Donation
emBIO clinic offers an egg donation program at the price of EUR 4,500. This program includes the following:
the initial consultation with a fertility doctor,
a personalized treatment plan,
detailed egg donor profile,
all expenses regarding donor,
anaesthesiologist during egg collection,
semen analysis and sperm preparation,
embryo culture,
embryo transfer,
ICSI if needed.
The cost of extended culture to blastocyst stage is EUR 500, sperm freezing EUR costs 350, Embryoscope – EUR 500, vitrification – EUR 800, frozen embryo transfer – EUR 1,100.
Need to find out more about IVF costs? Contact emBIO
emBIO IVF Success Rates 2021
The overall egg donation clinical pregnancy rate for 2021 was 67% and the IVF with own eggs overall clinical pregnancy success rate was 51%. The IVF with own eggs clinical pregnancy rate with a breakdown per recipient's age is as follows:
under 35 years of age – 53%
35-40 years old – 43%
above the age of 40 – 32%.
The frozen embryo clinical pregnancy rate in 2021 was 59% and the rate for embryo donation was 51%. The embryologists at emBIO recommend transferring embryos at the blastocyst stage. The average number of embryos transferred in 2021 was two which makes the multiple birth rate 14%.
Need more information on success rates? Contact emBIO
Who Attends?
emBIO clinic is visited by patients from various countries in the world. In 2021, 50% of them came from Greece, 20% from the UK, 10% from Italy, 10% from France, 5% from Sweden, and the remaining 5% from other European countries.
From the staff
At EmBio, we respect each patient as an individual. So when it comes to helping you become a parent, we take a personal approach. From the moment you begin your fertility journey with us, we tailor our evaluations and services to your needs. We call it your Signature Success. It's part of the personal attention that creates the best fertility experience. We also believe that compassion is the cornerstone of our approach to patient care. We believe that in order to provide compassionate, complete care we must care for the whole patient, emotionally and physically.
Clinic Location
emBIO Medical Center is located 12 minutes from the Chalandri city center. The clinic offers airport pickup for patients at the cost of EUR 4-50. emBIO has deals with local hotels so you can book accommodation at promotional prices. Patients coming from abroad may start their IVF treatment at EmBIO, spend just a few days in Greece and, then, they can be monitored by the gynaecologist/obstetrician in their home country in collaboration with EmBIO's fertility specialists.