Reproclinic is a fertility clinic located in central Barcelona in Spain. Reproclinic is a fertility clinic located in central Barcelona in Spain, very close to the Market of Sant Antoni on the left side of the Eixample district, one of the most Barcelona iconic markets. Reproclinic is located a 1,500 square meters brand new clinic building equipped with 5 consultation rooms with an ultrasound area, one sperm collection room, two blood extraction rooms, and three secure laboratories: IVF, andrology, and cryo lab – and one operating theatre. Privacy and security of the procedures are the paramount importance for Reproclinic. For that, two independent entrances have been designed: one for egg donors and one for patients, keeping privacy at all times. The clinic has a highly trained multidisciplinary team of specialists with extensive experience of 34 members, offering an attentive, friendly, and personalised service. In 2020, Reproclinic performed 293 IVF cycles with own eggs and 150 egg donation cycles.
COVID-19 information
At Reproclinic, we understand that many questions may have arisen. We want to help you by clearing up some doubts from a scientific point of view:
the articles published, and the cases studied show that there is no vertical transmission of COVID-19 from pregnant women to foetuses, and pregnancy development will thus be the natural one.
neither gestation prognosis, nor patients', was worse compared to non-pregnant infected women; therefore, there is no increased risk of infection for pregnant women or the ones undergoing assisted reproduction treatments.
to date, there is no evidence of transmission through assisted reproduction treatments. In addition, there is a detailed protocol drawn up by Health Authorities with the measures to be followed to guarantee patients' health.
At Reproclinic, all possible measures have been taken to ensure the utmost safety of the clinic's visitors, patients, and staff.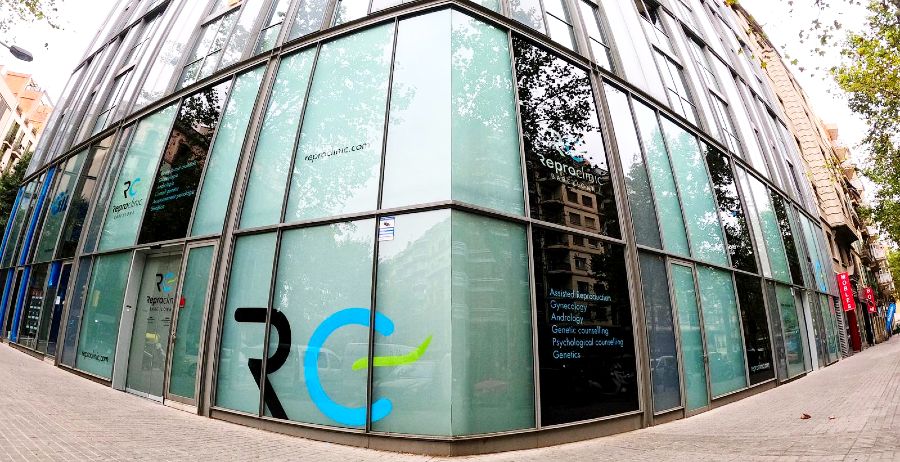 Medical Team at Reproclinic
The clinic's team consists of multiple physicians, embryologists, nurses, patient assistants and management staff. Some of the many specialists:
MD Anna Voskuilen – Specialist in Obstetrics, Gynecology and Reproductive Medicine
Dr Sara Ventosa
Dr Mauricio Gomez – 20 years of experience
PhD Mariona Rius – Embryologist & Lab Director
MSc in Cell Biology, Silvia Fernández – Genetic Counsellor & Director.
The clinic provides all fertility treatments (except surrogacy and gender selection IVF cycles) with own or donor (anonymous) gametes for heterosexual or female couples or single women. The egg recipient age limit is around 50 years. The storage of cryopreserved gametes has no time limit. The clinic creates individualised fertility treatment programs that are tailored to patient's needs. The patient experience is a fundamental concept at Reproclinic. Every detail of this experience contributes to success, making all this process manageable, safe, easy and relaxing.
The staff speaks Spanish, Catalan, English, French, Italian, German, Dutch, Russian, Portugues, Arabic and Persian.
The clinic holds ISO 9001 accreditation – ISO 9001: 2015 valid till 20, Nov 2022. And it is accredited by the Health Department of the Generalitat of Catalunya.
Reproclinic Fertility Treatments
IUI/IVF/ ICSI
Egg donation
Donor sperm
Embryo donation
PGD/PGS
Sperm freezing
ROPA
Fertility preservation/egg freezing
Male factor treatments: fertile technique for sperm selection, testicular biopsy, sperm DNA fragmentation test, sperm aneuploidy test
Genetic tests on donors and patients.
Need to find out more about a particular treatment? Contact Reproclinic
Reproclinic Price List 2021
IVF Costs
IVF treatment with own eggs with ICSI and embryo transfer included costs EUR 4,990 and includes sperm preparation, ICSI or conventional IVF of mature eggs, sedation, embryo culture to blastocyst stage, first embryo transfer, HCG pregnancy test (if done at Reproclinic), first scan if positive pregnancy occurs (if done at Reproclinic).
You can also have so-called mild IVF at the cost of EUR 4,295 or IUI for EUR 895.
At Reproclinic, you can also preserve your fertility – egg vitrification, storage/maintenance for four years costs EUR 2,900. Egg thawing and IVF after fertility preservation with ICSI and transfer included costs EUR 2,900. Fertility preservation for consecutive cycles costs EUR 2,300.
Egg Donation Costs
The clinic offers several programs of egg donation treatments. The most requested program offers the guarantee of 8 mature eggs or 2 blastocysts and the cost of this program is 7,250 Euros. This includes the firt consultation, donor expenses (medication, compensation, scans, lab tests, including carrier screening tests for >175 genetic diseases, egg retrieval), sperm analysis (if needed), IVF procedure with ICSI, embryo culture to blastocyst stage and one embryo transfer. Contact the clinic for specific prices for each type of egg donation treatment. Other programs are as follows:
4 Mature Eggs Program – € 5,630
6 Mature Eggs Program – € 6,450
8 Mature Eggs Program – € 7,250 (2 blastocysts guaranteed)
10 Mature Eggs Program – € 8,150 (2 blastocysts guaranteed)
15 Mature Eggs Program* – €10,500 (3 blastocysts guaranteed).
*Cost of each additional egg is €410.
If no embryos are obtained, a new cycle will be carried out free of charge. If the cycle results in a low quantity of blastocysts than the guaranteed on each program, a discount of 400 Euros will be made on the next cycle. The blastocyst guarantee does not apply in cases of low-quality sperm analysis used in the cycle (sperm concentration less than 10 Mill/ml and/or progressive motility less than 25 Mill/ml and/or less than 2% of normal forms).
There's also an offer for same-sex female couples – shared motherhood program (also known as ROPA or Reciprocal IVF) including sperm bank at the cost of  EUR 5,700. Embryo donation costs EUR 3,950.
Gamete freezing/vitrification
The cost of sperm freezing is EUR 250 and it includes 6 months of storage. If you wish to freeze your embryos, the cost is EUR 970 (includes 1-year storage) or EUR 625 (includes 3 months storage). Then, the cost of FET (frozen embryo transfer) is EUR 1,725.
The first consultation is free, and it can be done on-site or online.
Refund Package (Money back guarantee):
Refunding - Live Birth Guarantee Program (with donor eggs) - 19250 EUR
Refund is guaranteed if the program does not end with the desired result.
Program qualification is necessary. Please ask the clinic for details.
Refunding - Live Birth Guarantee Program (with own eggs) <35 (normal sperm FISH) - 15500 EUR
Refund is guaranteed if the program does not end with the desired result.
Program qualification is necessary. Please ask the clinic for details.
Use our IVF Cost Calculator to help understand costs.
Need more information on IVF costs? Contact Reproclinic
Reproclinic Success Rates 2020
The clinical pregnancy success rate in 2020 for egg donation was 67%.
The IVF with own eggs clinical pregnancy success rates per embryo transfer were:
women under 35 years old: 72.16% (PGT cases not included)
women 36-39 years old: 44.23% (PGT cases not included)
women over 40 years old: 41.86% (PGT case.s not included)
In 2020, the frozen embryo transfer success rate was 67% with own eggs and 73% with donor eggs. The embryo donation success rate was 73%. The average number of embryos transferred per embryo transfer was 1.
The clinic prefers to transfer blastocyst embryos.
They submit their results to the Spanish Fertility Society (SEF) for verification.
Need more information on IVF success rates? Contact Reproclinic
Who Attends?
Reproclinic treats international patients coming from all over the world. Most of them are from Europe, North America and the Middle East.
From the staff
Making the patient experience as unique and pleasant as possible is our highest goal. We assure personalized care during all the fertility journey:

One Patient = One Team: support of 3 professionals (patient & medical assistants and physician), who guided you throughout your journey.

Integrative Support: specialists in coaching, nutrition, acupuncture, reflexology, yoga, among others, put at your disposal all the benefits of this approach.

Stress-Free Fertility Journey Abroad: 365-day assistance in the patient's language, travel management, financial solutions, and promotional offers.
Clinic Location
Reproclinic is located in Compte d'Urgell 46 Street, in the city centre of Barcelona in a 1,500 square metres building exclusively dedicated to assisted reproduction, very close to the Market of Sant Antoni in the left Eixample, one of the most famous markets.