The Centro Gutenberg Reproduction Unit (URE Centro Gutenberg) is a fertility centre in Spain and a pioneer in its sector. They have been working in the field of assisted reproduction since 1987, and in 1989 they achieved the first IVF birth in Malaga. At present, URE Centro Gutenberg is the assisted reproduction centre which performs the highest number of treatments in all of Malaga (city and province). The clinic looks out onto a beach and is located 10-15 minutes' walk from the city centre.  There are two laboratories and one theatre. There are four recovery rooms, two double and two single, all with en-suite bathrooms.
The medical director is Dr. Claudio Alvarez Pinochet. He has a degree in Medicine and Surgery (University of Chile) specialising in Gynaecology and Obstetrics, and a Master's in Human Reproduction (University of Valencia). Dr. Alvarez has spent more than 15 years working both in Chile and in Spain and previously worked at the Valencian Institute for Infertility (IVI) for 7 years. Since 2010 he has worked at the URE Centro Gutenberg and became its medical director in 2012.  Dr. Alvarez is a regular speaker at both national and international conferences and meetings. Specifically, he spoke at the ESHRE Conference in 2006 and was pre-selected for the "Promising Young Clinician Award". He is a member of the Spanish Fertility Society and specifically forms part of the Endocrinology Interest Group. There are four doctors in total and five embryologists. The senior embryologist has 29 years of experience and is ESHRE accredited. There is a Patient Support Team who will help patients from abroad. Many of the staff speak English and there is a team on hand for translation of other languages.
The clinic has ISO accreditation ISO 9001: 2008.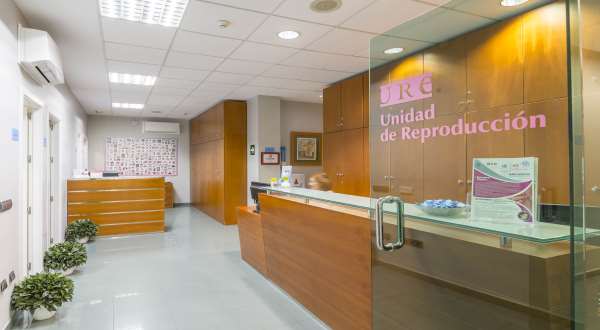 URE Centro Gutenberg Treatments
IVF/ICSI
Egg donation
Donor sperm
Embryo donation
PGD/PGS
Assisted Hatching
Embryo freezing
Embryoscope
Sperm/Egg freezing
MACS
Testicular Biopsy
ROPA
Cost of Treatments
The advertised price of egg donation treatment is 6000 Euros.  It includes:
Donor testing and genetic markers.
Selection, preparation and donor's ovarian stimulation and egg collection
Financial compensation for the donor
Intracytoplasmic Sperm Injection (ICSI)
Cultivation to blastocyst
Preparation of the recipient (ultrasounds and analyses for the cycle)
Embryo transfer
First pregnancy ultrasound (confirmation of heartbeat and gestational sac)
The first consultation is free. The Embryoscope costs 300 Euros. Sperm freezing costs 100 Euros and embryo freezing costs 500 Euros.
The advertised cost of IVF using own eggs is 3500 Euros.  This includes:
Ultrasounds (unlimited) and Hormone Analyses (unlimited)
Operating room
Sedation
Egg collection
Intracytoplasmic Sperm Injection (ICSI)
Cultivation to blastocyst
Embryo transfer
First pregnancy ultrasound (confirmation of heartbeat and gestational sac)
The cost of a frozen embryo transfer cycle is 1000 Euros.
The clinic does not offer egg sharing.
URE Centro Gutenberg Success Rates 2016
The egg donation clinical pregnancy rate is 62%.
The overall IVF clinical pregnancy rate is 50%.
The frozen embryo clinical pregnancy rate is 62%.
The embryo donation clinical pregnancy rate is 50%.
The clinic submits their results to the Spanish Fertility Society (SEF).
90% of the embryo transfers are done at the blastocyst stage. The multiple birth rate was 20%. On average 1.5 embryos are transferred at each cycle.
Who Attends?
Of the people who attend the clinic, 80% are Spanish and 20% are from the UK, Morocco, France and Italy.
From the staff
URE CENTRO GUTENBERG was established in Malaga in 1987. It brings 30 years of experience to Reproductive Medicine, in 1989 they were able to successfully assist in the very first pregnancy with In Vitro Fertilization in the Malaga province. This places them as one of Spain's top centres in regards to innovation and expertise. According to data from the Spanish Fertility Society, The Gutenberg Centre Reproduction Unit is currently the leading specialty fertility clinic for having performed the highest number of assisted reproduction treatments in the province of Malaga.
Clinic Location
The clinic is located beach-front, within 10 – 15 minutes' walk to the city centre. Only 11 km from AGP Malaga airport, and 3 km to Maria Zambrano Train Station.
The Patient Support department can help with your trip. The clinic has preferential agreements with hotels and can also organise airport pickup.
Remember it is free to make an initial enquiry to URE Centro Gutenberg.