Embryoclinic was established in 2013 and is based in Thessaloniki, Greece. In 2021, the doctors at Embryoclinic performed 524 treatment cycles of which 48% were egg donation cycles and 52% were IVF cycles with own eggs. The clinic's extensive experience facilitates treatment in an ethical and safe environment. Embryoclinic features one IVF laboratory and one operating theatre. There are four recovery beds available; this patient space can also be converted into a single recovery area upon the patient's request. The clinic's interior design has been awarded IIDA Global Excellence Awards 2013.
The medical director, Dr. Elias Tsakos, is a fellow of the Royal College of Obstetricians & Gynecologists UK with a license to practice in the UK and has great experience in treating international patients. He is also a Certified Robotics Surgeon (DaVinci). There are three fertility doctors, excluding the medical director and three embryologists. The senior embryologist has 20 years of experience. All staff members speak English. There are also members of staff fluent in French, Italian, Serbian, German, and Albanian.
Embryoclinic uses cutting-edge medical technology is used and current medical protocols applied in accordance with the latest international guidelines. Specialists at EmbryoClinic aim at individualized treatment and evidence-based medicine with honesty, respect and care for their patients. The services are fully computerized and patients are electronically registered in safe and secure systems. Every fertility patient is supported by her personal fertility coordinator.
At Embryoclinic, they invest in uninterrupted communication and constant support of patients electronically and personally, either physically or by free Skype short consultations with our fertility experts.
Embryoclinic and their doctors support patient awareness and education with regular newsletters, #IVFWEBINARS, Facebook groups and social media campaigns. All gynecological procedures, minimally invasive and surgical procedures are available at the clinic as well as robotic surgery from certified robotic surgeons.
The Embryoclinic IVF Unit unit has recently been awarded "COVID Shield" certification from TUV AUSTRIA after inspection, for protocols and applied measures to avoid the spread of the Coronavirus and to protect patients and personnel against COVID-19 infection.
EmbryoClinic holds ISO 9001 and EN 15224 certifications.
Embryoclinic Fertility Treatment Options
The following treatments are available at the clinic:
IUI (intrauterine insemination) and AID (artificial insemination with donor)
IVF/ICSI
Egg donation
Donor sperm
Donor eggs
Embryo donation
PGT
Assisted hatching
Embryo/egg/sperm freezing
EmbryoGlue
Time-Lapse technology
Surrogacy
Need to find out more about a particular treatment? Contact Embryoclinic
Embryoclinic IVF Costs
At Embryoclinic, IUI (intrauterine insemination) will cost you EUR 700 and if there is a need to use donor sperm you can undergo AID (artificial insemination with donor) at the cost of EUR 1,500.
IVF with Own Eggs
The cost of IVF treatment with own eggs is EUR 3,700. What's included?
Administration, coordination and medical consultations during treatment
Ultrasound scans at EmbryoClinic
Egg collection
Anaesthesia for egg collection
Sperm preparation (fresh and/or frozen sample) and fertilization
Embryo culture
ICSI
Blastocyst (day 5) embryo culture (if indicated)
Assisted hatching
Embryoglue
Embryo transfer (fresh)
Health Authority administration fee.
IVF with Donor Eggs
Egg donation program at Embryoclinic costs EUR 7,700 and it includes:
Administration, coordination  and medical consultations during treatment
All egg donor's expenses (screening, support, compensation,  drugs, scans, blood tests, pre-anaesthetic assessment, egg collection,  anaesthesia, Covid-19 PCR test (2 tests)
Sperm preparation, fertilization, embryo culture
ICSI
Blastocyst (day 5) embryo culture
Embryo freezing and storage for up to 4 months (1 or 2 embryos) reserved for the 1st embryo transfer
Recipient's scans at EmbryoClinic
Assisted hatching
Embryoglue
One Embryo Transfer procedure (1 or 2 embryos transferred)
Health Authority administration fee.
The waiting time is 3 months. The cost of the first consultation is EUR 250. The extended culture to blastocyst is included in the price of treatment. If you wish to freeze your partner's sperm, the cost is EUR 400; the vitrification of eggs or embryos is included in the program's price. The price of a frozen embryo transfer is EUR 1,700. If you wish to use donor sperm, the cost starts from EUR 800.
At Embryoclinic, you can also opt for embryo donation at the cost of EUR 6,000 for 2 embryos. If you are interested in surrogacy at this clinic, this treatment is also available – the cost is available on demand. Please contact the clinic to get to know more details.
Social Freezing
If you are looking for fertility preservation treatment, Embryoclinic is the place to go. The egg freezing cycle, so-called social freezing, is available at the cost of EUR 2,700.
Genetic Testing
PGT-A costs at Embryoclinic start from EUR 1,900 for 1 embryo. This type of testing is done only for medical reasons and after obtaining a special permit from the Greek authorities.
Use our IVF Cost Calculator to help understand costs.
Need more information on IVF costs? Contact Embryoclinic
Embryoclinic Success Rates 2021
In 2021, at Embryoclinic, the overall clinical pregnancy success rate for IVF with own eggs per embryo transfer was 27% and the rate per age was as follows:
under 35 years old: 42%
35-40 years old: 32%
over 40 years old: 13%.
The egg donation clinical pregnancy success rate in 2021 was 64% per embryo transfer. The frozen embryo clinical pregnancy success rate per embryo transfer in 2021 was 54% and for embryo donation 60%.
At Embryoclinic, the embryologists recommend embryo transfer on Day 5 and the average number of embryos transferred in 2021 was 1.2. This gives the multiple birth rate of only 5%.
Need more information on IVF success rates? Contact Embryoclinic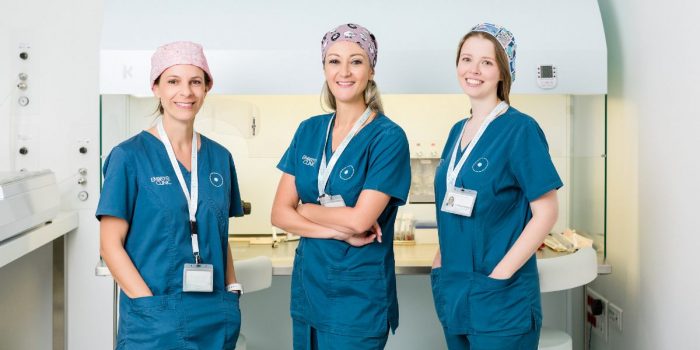 From the staff
We welcome each patient in Embryoclinic with dedication and care. We believe that the journey to parenthood should be a wonderful experience for all parents-to-be and our team is ready to turn "your cells into smiles"!

Our mission is to inspire hope and contribute successfully to the journey to parenthood, providing top fertility care, comfort and awareness.

Our vision is a stress-free and successful journey to parenthood for all our patients!
Who attends?
The Embryoclinic patients come from Greece: 57%, the UK: 11%, Italy: 8%, Serbia: 5%, Albania: 3%, and 16% of patients come from other countries such as Spain, Germany, Australia, Montenegro, Poland, Romania, France, Luxembourg, Switzerland, the USA, Esthonia, Ireland, the Netherlands, or Singapore.
Clinic Location
To reach the clinic from the airport or from Thessaloniki city center, it takes 15 minutes via taxi or car or 30 minutes via public transportation.
International patients will find great support from the clinic in regards to traveling and accommodation arrangements to minimize their stress and enjoy a great experience in Thessaloniki. Depending on the time of the flight, the clinic is able to offer airport pick-up. There might be an additional fee for late-night hours, €30-50 depending on the location of the hotel. There is a variety of accommodation choices for any budget (from €40 per person per night). There is also assistance available for accommodation arrangements.